With about 20 million infections each year, hepatitis E virus (HEV) represents a significant global health burden. Despite a growing awareness, the comprehension of this virus and its life cycle at the molecular level remains scarce. A contributing factor is the necessity to grow the virus in cell culture systems, which are usually based on aberrant cancer cells.
In order to overcome these limitations, we use embryonic or induced pluripotent stem cell (hESC/iPSC)-derived cell culture models, in particular stem-cell derived hepatocyte-like cells (HLCs; Figure 1).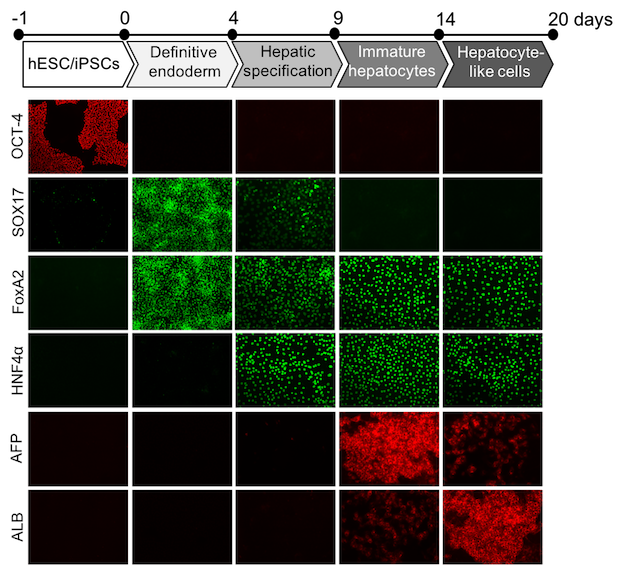 Figure 1: Differentiation of human pluripotent stem cells (embryonic or induced, hESC/iPSCs) to hepatocyte-like cells (HLCs; Wu & Dao Thi et al. 2018, Gastroenterology).
HEV is a positive-strand RNA, non-enveloped virus (nHEV), which gains a membranous host-derived envelope when budding from cells. In this form, the virus is called quasi-enveloped HEV (eHEV). While nHEV is ingested and shed into feces for fecal-oral transmission to another host, eHEV circulates in the blood of infected patients. The projects in our lab are geared towards studying the role of the quasi-envelope during different HEV life cycle steps, such as entry, innate immune sensing, assembly, secretion, in and from polarized cells (Figure 2). We further explore novel treatment options. Our studies are supported by a strong network of collaborations and state of the art technologies available on the outstanding campus environment of Heidelberg University.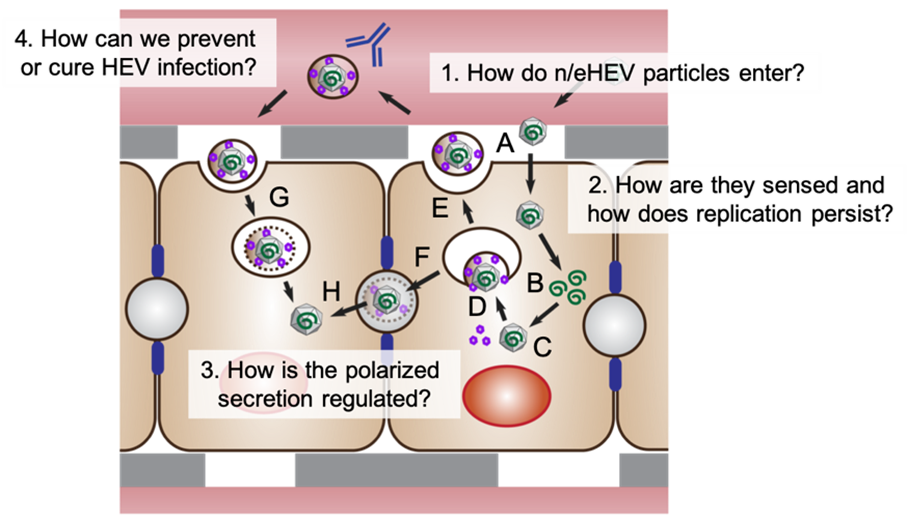 Figure 2: HEV life cycle and transmission (adapted from Fu et al., 2019). (A) e/nHEV particles infect hepatocytes through their basolateral membrane. (B) Replication of the HEV genome (green) mediated by HEV nonstructural proteins occurs in a yet uncharacterized cellular compartment. (C) Subgenomic RNA is translated into ORF2 capsid protein (grey) and ORF3 protein (purple). The assembly site of infectious HEV particles is unknown. (D) Progeny HEV particles bud into multivesicular buddies mediated by the interaction of ORF3 with the ESCRT machinery of the host cell. (E) Basolaterally secreted eHEV particles are quasi-enveloped and circulate in this form in the bloodstream. The envelope protects eHEV particles from neutralizing anti-ORF2 Abs. (F) Apically secreted particles bud as eHEV particles and are then matured into nHEV particles. While exact modes of nHEV entry (A) are unknown, (G) eHEV particles enter through clathrin-dependent endocytosis. Cell-to-cell transmission or (H) transmission between neighboring apical domains has not been described yet.
Project examples for further details: